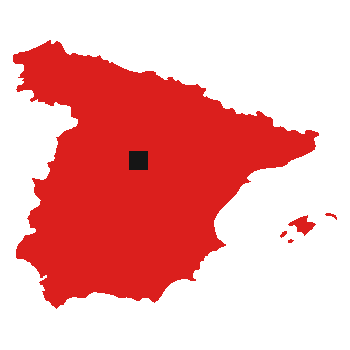 Yesterday in Vigo – a city and municipality situated in north-west Spain in the autonomous community of Galicia – organisers of the 68th edition of the Vuelta a España finally revealed the 2013 route and it would be fair to say that it may well be one of the hardest ever seen. It begins on Saturday 24th August in Galicia's rugged Rias Baixas regions and will take an anti-clockwise route around Spain.
With the exception of a rare summit finish in France on stage 15, at the ski resort Peyragudes, it's going to be an entirely Spanaish Vuelta. And for this, the third and final Grand Tour of the year, the race will see a record number 11 summit finishes, one more than last year. No question about it, it's going to be a hard race, really hard, right the way through.
Unlike last year, which stayed only in the northern half of the country, this year's edition takes in nearly every corner of Spain. The route sweeps counterclockwise across Spain, starting with five days in northwest Spain in Galicia, along the narrow fiords called "rias baixas", before turning south through the desolate region around Lago de Sanabria, home to some of Spain's last surviving wild wolves, toward Andalucia.
A long transfer during the second week takes the race to Catalunya and into the Pyrénées before the final push across the Cantabrian mountains in the third week to complete the very demanding and punishing course.
There are two rolling time trials – a 27 km team time trial on the opening day, and a 38 km individual time trial on stage 11.
Key mountain stages include a first-category finale up Alto de Groba on stage 2 followed by a Cat. 3 finale to the top of Mirador de Lobeira the following day. Stage 4 tackles the short but brutal Mirador de Ézaro with ramps as steep as 30 percent, making it one of Europe's steepest roads. Stages 8, 9 and 10 see three straight uphill finales at the Cat. 1 Peñas Blancas, Cat. 2 Valdepeñas de Jaén and the "especíal" summit category at Hazallanas.
Stages 14, 15 and 16 see three more demanding mountain days with stage 14 ending atop the La Gallina climb in Andorra, stage 15 pushing into France with four first-category climbs, including the Peyragudes summit finale, and stage 16 concluding with the grinding climb to the Formigal ski area. The punishment continues right up until the penultimate stage up the horrific L'Anglirú with weather that is often poor and ramps as steep as 27 percent.
Stage 1

Date

: Saturday 24th August, 2013

Start

: Vilanova de Arousa

Finish

: Sanxenxo

Distance

: 27 km

Terrain

: Team Time Trial

Profile

:

Click here

Stage 2

Date

: Sunday 25th August, 2013

Start

: Pontevedra

Finish

: Monte da Groba

Distance

: 176.8 km

Terrain

: Medium Mountains

Profile

:

Click here
Stage 3

Date

: Monday 26th August, 2013

Start

: Vigo

Finish

: Mirador de Lobeira

Distance

: 172.5 km

Terrain

: Flat

Profile

:

Click here

Stage 4

Date

: Tuesday 27th August, 2013

Start

: Lalín

Finish

: Fisterra

Distance

: 186.5 km

Terrain

: Medium Mountains

Profile

:

Click here
Stage 5

Date

: Wednesday 28th August, 2013

Start

: Sober

Finish

: Lago de Sanabria

Distance

: 168.4 km

Terrain

: Medium Mountains

Profile

:

Click here

Stage 6

Date

: Thursday 29th August, 2013

Start

: Guijuelo

Finish

: Cáceres

Distance

: 177.3 km

Terrain

: Flat

Profile

:

Click here
Stage 7

Date

: Friday 30th August, 2013

Start

: Almendralejo

Finish

: Mairena del Aljarafe

Distance

: 195.5 km

Terrain

: Flat

Profile

:

Click here

Stage 8

Date

: Saturday 31st August, 2013

Start

: Jerez de la Frontera

Finish

: Alto de Peñas Blancas

Distance

: 170 km

Terrain

: High Mountains

Profile

:

Click here
Stage 9

Date

: Sunday 1st September, 2013

Start

: Antequera

Finish

: Valdepeñas de Jaén

Distance

: 174.3 km

Terrain

: Medium Mountains

Profile

:

Click here

Stage 10

Date

: Monday 2nd September, 2013

Start

: Torre del Campo

Finish

: Alto de Hazallanas

Distance

: 175.5 km

Terrain

: High Mountains

Profile

:

Click here
Stage 11

Date

: Wednesday 4th September, 2013

Start

: Tarazona

Finish

: Tarazona

Distance

: 38 km

Terrain

: Individual Time Trial

Profile

:

Click here

Stage 12

Date

: Thursday 5th September, 2013

Start

: Maella

Finish

: Tarragona

Distance

: 157 km

Terrain

: Flat

Profile

:

Click here
Stage 13

Date

: Friday 6th September, 2013

Start

: Valls

Finish

: Castelldefels

Distance

: 165 km

Terrain

: Medium Mountains

Profile

:

Click here

Stage 14

Date

: Saturday 7th September, 2013

Start

: Bagà 

Finish

: Coll de la Gallina

Distance

: 164 km

Terrain

: High Mountains

Profile

:

Click here
Stage 15

Date

: Sunday 8th September, 2013

Start

: Andorra

Finish

: Peyragudes

Distance

: 232.5 km

Terrain

: High Mountains

Profile

:

Click here

Stage 16

Date

: Monday 9th September, 2013

Start

: Graus

Finish

: Formigal

Distance

: 147.7 km

Terrain

: Medium Mountains

Profile

:

Click here
Stage 17

Date

: Wednesday 11th September, 2013

Start

: Calahorra

Finish

: Burgos

Distance

: 184.5 km

Terrain

: Flat

Profile

:

Click here

Stage 18

Date

: Thursday 12th September, 2013

Start

: Burgos

Finish

: Peña Cabarga

Distance

: 186 km

Terrain

: Medium Mountains

Profile

:

Click here
Stage 19

Date

: Friday 13th September, 2013

Start

: San Vicente de la Barquera

Finish

: Alto del Naranco

Distance

: 177.5 km

Terrain

: Medium Mountains

Profile

:

Click here

Stage 20

Date

: Saturday 14th September, 2013

Start

: Avilés

Finish

: Alto de L'Angliru

Distance

: 144.1 km

Terrain

: High Mountains

Profile

:

Click here
Stage 21

Date

: Sunday 15th September, 2013

Start

: Leganés

Finish

: Madrid

Distance

: 99.1 km

Terrain

: Flat

Profile

:

Click here