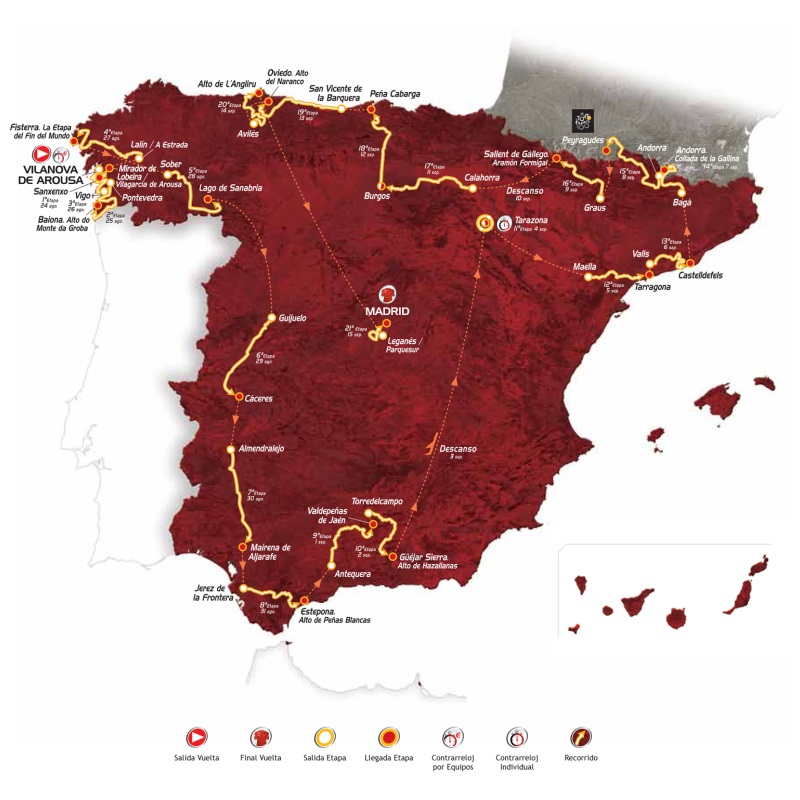 Like it was the previous year, the third and final grand tour of the season was one for the climbers with no fewer than 11 summit finales. Unlike the previous year, which stayed only in the northern half of the country, the 2013 edition visited nearly every corner of Spain plus a return to France for the 232 km "queen stage" over four first-category climbs in the Pyrénées.
The route swept counterclockwise across Spain, starting with five days in northwest Spain in Galicia, along the narrow fiords called "rias baixas", before turning south through the desolate region around Lago de Sanabria, home to some of Spain's last surviving wild wolves, toward Andalucia.
A long transfer during the second week took the race to Catalunya and into the Pyrénées before the final push across the Cantabrian mountains in the third week to complete a very demanding and punishing course.
There were two rolling time trials – a 27 km team time trial on the opening day, and a 38 km individual time trial on stage 11.
Key mountain stages included a first-category finale up Alto de Groba on stage 2 followed by a Cat. 3 finale to the top of Mirador de Lobeira the following day. Stage 4 tackled the short but brutal Mirador de Ézaro with ramps as steep as 30 percent, making it one of Europe's steepest roads. Stages 8, 9 and 10 saw three straight uphill finales at the Cat. 1 Peñas Blancas, Cat. 2 Valdepeñas de Jaén and the "especíal" summit category at Hazallanas.
Stages 14, 15 and 16 saw three more demanding mountain days with stage 14 ending atop the La Gallina climb in Andorra, stage 15 pushing into France with four first-category climbs, including the Peyragudes summit finale, and stage 16 concluding with the grinding climb to the Formigal ski area. The punishment continued right up until the penultimate stage up the horrific L'Anglirú with weather that is often poor and ramps as steep as 27 percent.