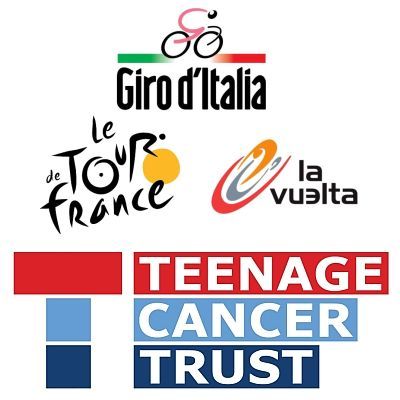 My name is Kyle Martin and welcome to 3 Grand Tours For Teenage Cancer Trust, a non-profit fundraising website. In 2013 I have challenged myself to cycle 10,000 km in 63 days when I will attempt to solo cycle the 3 Grand Tours of Europe – the Giro d'Italia, Tour de France and Vuelta a España.
Just like my Tour de France For Teenage Cancer Trust ride in 2012 it was a memorial cycle ride for my late father Bob Martin and once again I was cycling as a fundraiser in aid of Teenage Cancer Trust, a charity devoted to improving the lives of teenagers and young adults with cancer. In 2012, with help from family, friends and local businesses, we raised £5,464.63. In 2013 we aimed to raise £10,000 – as little as £1 for each kilometre cycled.
Many people hold a secret ambition to do something amazing in their life. For many years mine had been to ride the Tour de France. In the summer of 2012 I fulfilled that ambition when I successfully undertook the challenge of soloing the 2012 Tour route. This year I hope to fulfil another ambition when I will go one better (well, two actually) and ride all 3 Grand Tours.