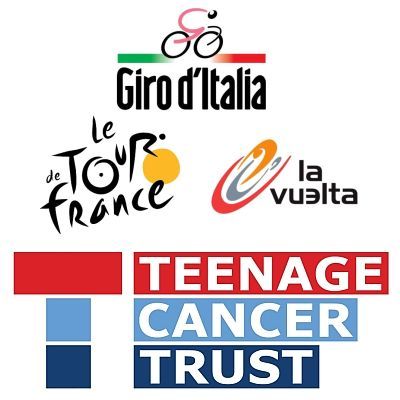 My name is Kyle Martin and welcome to 3 Grand Tours For Teenage Cancer Trust, a non-profit fundraising website. In 2013 I have challenged myself to cycle 10,000 km in 63 days when I will attempt to solo cycle the 3 Grand Tours of Europe – the Giro d'Italia, Tour de France and Vuelta a España.
Just like my Tour de France For Teenage Cancer Trust ride in 2012 it is a memorial cycle ride for my late father Bob Martin and once again I'll be cycling as a fundraiser in aid of Teenage Cancer Trust, a charity devoted to improving the lives of teenagers and young adults with cancer. In 2012, with help from family, friends and local businesses, we raised £5,464.63. In 2013 we'd like to raise £10,000 – as little as £1 for each kilometre cycled.
Many people hold a secret ambition to do something amazing in their life. For many years mine had been to ride the Tour de France. In the summer of 2012 I fulfilled that ambition when I successfully undertook the challenge of soloing the 2012 Tour route. This year I hope to fulfil another ambition when I will go one better (well, two actually) and ride all 3 Grand Tours.
In 2013 – 3 Grand Tours: The Giro, Le Tour & La Vuelta
… One Man. One Cycle. Three BIG Challenges.

Supported by my wife Kay, and starting one week after the official

grand depart

of the Giro, and one week before the Tour de France and the Vuelta, I will cycle a stage each day, exactly like the professionals. If you would like to support my fundraiser you can do so by making a donation via my

JustGiving

page. To ride one stage is extreme, riding all 3 Grand Tours solo will be a mammoth task and deserves your support.

Tour de France, 2012
… One BIG Challenge.

In 2012 I fulfilled a lifelong ambition when I successfully undertook the challenge of soloing the 2012 Tour route. The challenge was simple. Supported by my wife Kay I cycled a stage each day, exactly like the professionals, starting one week before them.

A Memorial Ride For My Father
Robert Martin

Riding the Tour in 2012 made perfect sense to me. I lost my father to cancer in 2002 and to mark the 10th anniversary of his passing I decided to ride my own Tour de France in his memory. It was also an ideal way of raising some money for my chosen charity Teenage Cancer Trust.
About Teenage Cancer Trust

Every day in the UK, six teenagers are diagnosed with cancer and at

Teenage Cancer Trust

they understand that cancer doesn't stop these teenagers being teenagers. They know that young people have a much better chance if they are treated by teenage cancers experts, in an environment tailored to their needs.

So Teenage Cancer Trust have created specialist units that aren't like ordinary cancer wards. Everything about them has been designed to give teenagers the very best chance of a positive outcome. And they want every teenager and young adult in the UK with cancer to have that chance.→ Official Website

2012 Tour in Pictures
The Grand Tours of Europe

A Grand Tour refers to one of the three major European professional cycling stage races – the Italian Giro, French Tour and Spanish Vuelta. They occur each year, usually in May, July and September respectively, and last for 3 weeks. Each tour has 21 days of racing with 2 rest days and a total race distance of up to 3,500 kilometres. The routes vary each year and include a mix of flat and mountain stages.

Over the years only a handful of riders have ridden and completed the Giro, Tour & Vuelta in the same year. It is rare for a professional cyclist to even start all three tours in one year. And for those that do – usually sprinters and their lead-out men – the aim is to win stages and retire from the race before it reaches the high mountains. In fact, only 32 riders have ever ridden all three tours to their conclusion in the same year.